Advertisements
Before and After Home DIY: Painting Kitchen Cabinets
We've been working on a home DIY project for a few weeks.  We're painting our old, dated kitchen cabinets a bright new shade of Daisy Dew, courtesy of Dutch Boy Refresh Paint.   
The cabinets were an old, brown "paneling-look" style that I'm sure we all remember from the 70s.  The new cream color is much more appropriate for a cozy country kitchen, and really brightens up the entire room by reflecting light.
Since we'll be installing new cabinet handles and drawer pulls, there isn't any hardware shown in the after pictures.
The wallpaper on the walls is also eventually going to be removed and the walls painted instead.  The bottom cabinets will be painted to match as soon as the new laminate countertop is installed (which is cozily residing in the garage right now!).
Here are the before and after photos for our DIY painting project.
Kitchen Cabinets, Before and After
The first section of kitchen cabinets surrounding the oven, before (brown) and after (cream colored – Daisy Dew):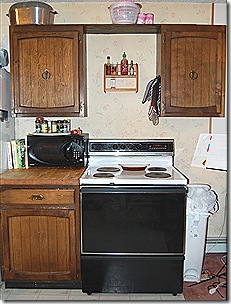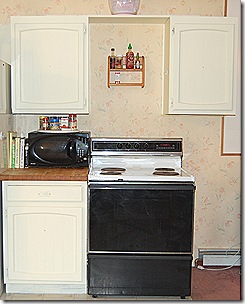 Main section of kitchen cabinets, before (brown) and after (Daisy Dew):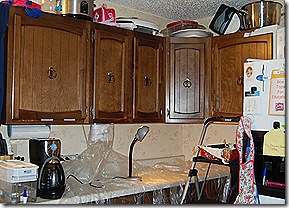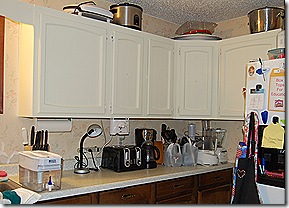 Cabinets at the sink and window area, before:

Cabinets at the sink and window area, after:

Overall, a pretty amazing transformation for our kitchen.  Even my husband and daughter would stand and stare at the kitchen for days after it was completed!  Thanks again to Dutch Boy Paint for supplying us with the Refresh Paint for this home DIY project.
For more before and after projects, visit Making a Happy Home Monday, Metamorphosis Monday and Tackle it Tuesday. The Dutch Boy image and logo are used with permission by Dutch Boy Paint.
Google+
About Danelle Ice
Danelle Ice is an entrepreneur in Los Angeles and mom of 3. She is the creator of HomeEverAfter.com and SimDanelle.com. Danelle is also known as internet personality SimDanelle, the first virtual person. Danelle is a beauty guru on YouTube, vlogger, blogger, and new media darling. She is a current brand ambassador for for Keurig and previous AMD Tech Mom, Kraft Foods Delicious Byte brand ambassador, and Purex Insider.


Welcome! HomeEverAfter.com helps you create your American dream. I share my
printable checklists
and savings methods to help you run your home.
Beginner's Guide
.