Are you ready to be frugal today?   So let's get started on our 365 days of frugal tips!  Be Frugal Today #1 is How to Save Money on Trash Bags by Adding a Second Trash Can.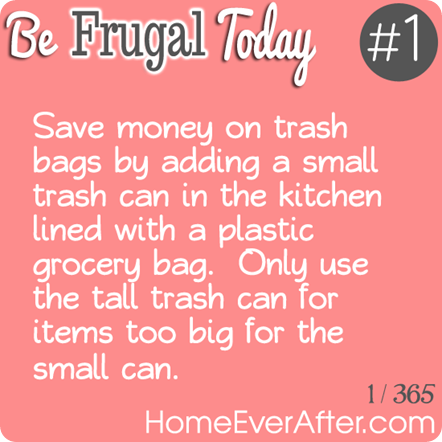 Be Frugal Today #1: Save Money on Trash Bags
Sometimes I think I've gone off the deep end of frugal living and that my husband is going to tease me.  Sometimes I'm right!  Then there are the other times, like this week, when I wanted to figure out how to save money on trash bags and I came up with a great solution.
After a recent grocery shopping trip, I told my husband how much our box of kitchen trash bags cost.  I usually buy the store brand of trash bags, which also happen to be the cheapest price per trash bag.  Best value or not, that didn't keep me from noticing that our box of trash bags cost $13!  I had just spent $13 on something I was planning to throw away.
As a frugal mom, this disturbed me and it bounced back and forth in my head all day.  "How can I save money on trash bags?" I thought.  It seemed like such a waste to spend so much money on something to hold our trash and then go to the landfill.  Then I looked over at my overflowing container of plastic grocery shopping bags.
Even using reusable shopping bags most of the time, we still accumulate plenty of plastic grocery shopping bags in my house.  You probably do too.  "If only there was a way to use those little bags for kitchen trash like I do in the small trash cans in every other room of the house," I thought.
Then the light bulb started to flicker above my head and I realized the solution to my money wasting trash bag problem was to add a second trash can!
The Frugal Tip: Save Money on Trash Bags with a 2nd Trash Can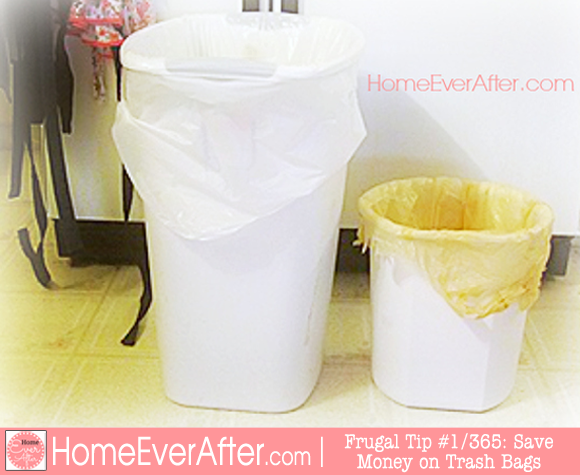 As you can see in the picture above, we now have TWO trash cans in the kitchen: a tall one and a small one!  I found an extra small trash can in the kids' room that rarely gets used and moved it to the kitchen next to the tall trash can.
The family now has instructions to put all trash in the small trash can unless it won't fit.  Bigger items go in the bigger trash can.
Having this smaller trash can may not seem like a big money saving system until you consider this data:
We normally take out 2-3 large trash bags per day.
In the first 4 days of using this new frugal trash can system, we took out 9 small trash bags but only ONE large trash bag.
That means in 4 days, we saved between $1.36 and $2.04 on trash bags.  That's between $10.20 and $15.30 of frugal savings a month, just on trash bags!  That extra $122.40 to $183.60 savings per year sounds pretty good, doesn't it?
In 4 days that we would have thrown away 8-12 large trash bags, we threw away only 1!  The free plastic grocery shopping bags that we're always trying to use up were the ones going to the garbage truck, not the large trash bags that cost 17 cents each.
Of course, I don't intend to let it go on as long as a year, because hopefully I'll run down my stockpile of plastic shopping bags by then (and I use reusable shopping bags most of the time).  But for right now, using a second small trash in the kitchen is using up my extra free resource and saving my family money.  That's frugal!
Now I realize this double trash can system may seem a little strange.  Remember that frugal living is all about using your money and your resources wisely, so don't be afraid to try out new home systems that might seem a little strange or unconventional.  Keep thinking of creative frugal solutions for your home and read more of our frugal tips before you go.
Subscribe to our free updates now to get our daily frugal tips
delivered right to your inbox!
---
We originally published Frugal Today: Save Money on Trash Bags on Home Ever After on September 30, 2010.  It is linked  up to Frugal Friday, Works for Me Wednesday and the Frugal Days Sustainable Ways blog hop.