Saving money on laundry is one of the fastest and easiest ways to cut household spending during a frugal makeover.  If you're looking for extra ways to dig deep and slash your laundry budget, we've got an interesting frugal tip today.  We're talking about how to save money on dryer sheets and stretch them 3 times as far!
As with most frugal tips, this one isn't complicated and it won't take you a lot of time.  In fact, it's so easy that your kids can even help with it!
If you're new to frugal laundry, click to learn my top 13 tips for how to save money on laundry.  Then, if you're ready to learn how to get 3 times more value out of your dryer sheets, watch this quick video about frugal dryer sheets and then read on.
Be Frugal Today: Get 3 Times More Out of Your Dryer Sheets
My frugal laundry routine has taken some turns over the years, but one thing that has remained the same in how I save money on dryer sheets is that I buy the cheapest dryer sheets that have no dye and no perfume.  I don't care what brand they are or what store they come from, my dryer sheets have to have the lowest per-sheet price, period.
For this example, I took a store brand box of dryer sheets (pictured below) containing 120 sheets.  The dryer sheets probably cost about $1.  Most people would stop at this point in their quest to save money on laundry, but not us frugal moms!  It's time for real frugal savvy and creativity.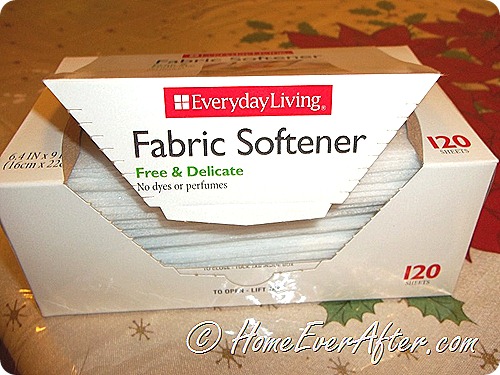 Frugal Tip: Cut the Dryer Sheets in Thirds
For years, all I did was cut my dryer sheets in half as soon as I got home from the store.  I doubled my savings on dryer sheets, and the dryer sheets worked just as well on a load of laundry even if they were half the size.  Then, when we bought our new house, I was really trying to tighten our household budget as much as I could.  I wondered how far I could push the laundry savings.  Would dryer sheets still work if they were only 1/3 the original size?
I discovered, much to my thrifty surprise, that dryer sheets still worked on a full load of laundry even if cut in 3.  So here's the method:
1.  Buy the cheapest dryer sheets.
2.  Open the box and remove all the dryer sheets.
3.  Grabbing a small stack at a time, use sharp scissors to cut each stack in three sections, as shown below.  Your kids can help with this chore and will probably even like it!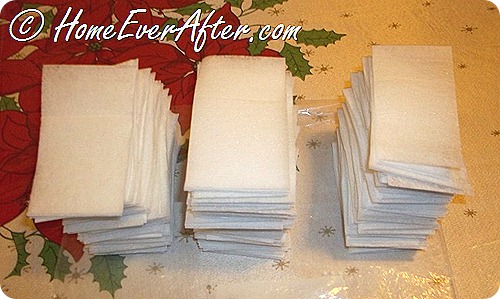 4.  After each cut, stack the dryer sheets neatly together into three even piles.
5.  Carefully put each stack into a 1 gallon size Ziploc storage bag with a  slider.  Put the bag of dryer sheets in the laundry room in place of your regular box of dryer sheets, and you're ready to save!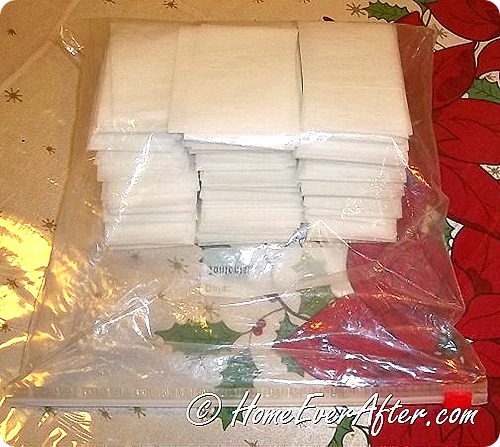 Each time you put a load of laundry in the dryer, pull out only 1 of your small dryer sheets and add it to the clothes.  By using this saving trick, you just got yourself 240 free dryer sheets.  That means you'll be able to dry 240 more loads of laundry but you'll pay no more for dryer sheets than if you were only drying 120 loads.
Your frugal dedication just allowed you to save money on laundry and get 3 times more out of your dryer sheets!
Don't miss any of our frugal tips and money saving articles.
Subscribe to our free updates now! 
Read more of our frugal articles before you go.   Be Frugal Today: How to Get 200% More out of Your Dryer Sheets is linked to Frugal Friday, Works for Me Wednesday and 11th Heaven.