Have you tried everything to get your baby breastfeeding with a good latch, but with no success?  Maybe you've done your reading, gotten helpful breastfeeding tips from friends or family, or watched nursing videos that show how to get a good deep latch for your baby to feed.
I had never heard of babies having tongue ties before I had my second child, Seven.  In the first two weeks after she was born, I spent a lot of time with a lactation consultant trying to work through breastfeeding difficulties.  The lactaction consultant was actually the one who spotted my daughter's tongue tie and sent me to my pediatrician to get the tie cut.
If you can't get a good latch no matter how many times you try, and it is painful to breastfeed (a feeling that baby is biting your nipples with his gums or is clamped down only on your nipple), there may be a physiological answer: the tongue-tie.
If this sounds like your situation, it's time to visit a lactation consultant or your pediatrician and ask them to check your baby for a tongue-tie.  You can find a lactation consultant by calling your local hospital, public health center, or La Leche League.
Lactation consultants know how to evaluate your breastfeeding and check to see if there is an abnormality under your baby's tongue that causes baby to be unable to raise his tongue.  This abnormality makes it physically impossible for baby to nurse with a good, deep latch.
What Does a Tongue-Tie Look Like?
You can see a baby with a tongue-tie in the photo below.  Some babies have such a tight tongue-tie that you cannot get their tongue up high enough to see it, making it difficult to take pictures.  Because of this reason, we were unable to get a photo of my newborn daughter's tongue-tie.  Tongue-tie photo below courtesy of Qole Pejorian.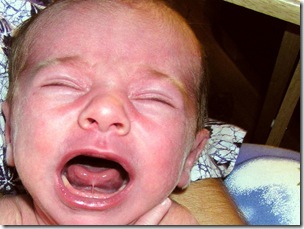 What is a Tongue-Tie?
A tongue tie is a piece of skin that connects the tongue to the bottom of the mouth.  In severe cases, a child will not be able to stick out their tongue.  If they can stick out their tongue, it makes an indentation in the middle tip of the tongue, forming the tongue into a heart shape.
Negative Effects from Tongue Ties
Painful or unproductive breastfeeding
Speech impediments
Inability to stick tongue out
Dental problems from tongue thrusting the teeth forward
Unable to lick ice cream cones or lick popsicles
What to Do if you Suspect a Tongue Tie
If your child has a tongue tie, make an appointment with an ear, nose and throat doctor immediately to have it clipped.  For babies, this is a quick in-office procedure with only local anesthetic.  For older children, your doctor will likely recommend having surgery in a hospital setting so that they can be put under general anesthesia and not have the memory of the tongue tie clipping.