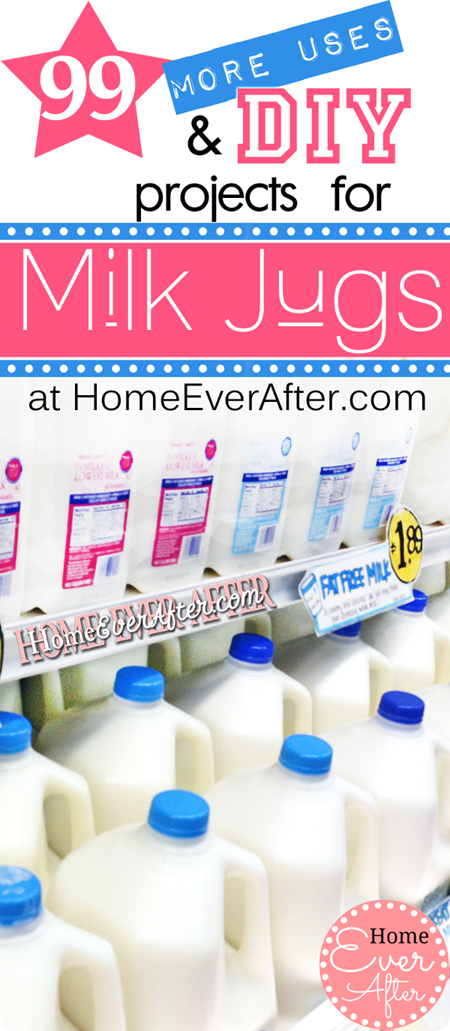 I knew you wanted more DIY milk jug projects, so I've been hard at work putting the finishing touches on my new list of ways to use plastic milk jugs after they are empty.  Here are 99 more uses for plastic milk jugs and DIY milk jug projects!
---
Have you read part 1 yet?  40 Uses for Plastic Milk Jugs
---
I've never gotten over my amazement at just how many ways you can repurpose milk jugs.  Remember when I talked about my house being the house that milk jugs built?  Whether you've got clear milk jugs, opaque white or opaque yellow, there are more ways to recycle and reuse your milk containers than you would even have time to do!
99 More Uses for Plastic Milk Jugs & DIY Milk Jug Projects!
In case you forgot some of my all-time favorite milk jug projects, go look at my DIY milk jug grain storage, DIY milk jug large kitchen utensils holders, and DIY milk jug plastic grocery bag dispenser.
Kitchen Milk Jug Uses
1. Utensil holders in the kitchen (cut off the tops to make a wide opening).
2. Storage for grains, rice, oats, beans, popcorn.
3. Milk jug picnic basket – use one for each person to carry their lunch.
4. Funnel (cut off bottom).
Cleaning Uses for Milk Jugs
5. Milk jug toilet brush holder (cut off top).
7. Baby bottle brush holder – Use a half gallon jug to keep your bottle brush clean and upright next to the sink!
8. Milk jug dust pan (cut bottom off at an angle, leave the handle attached and voila!).
Milk Jug Organizers & Storage Containers
9. Refrigerator shelf organizers (use bottom as a short tray).
10. Milk jug drawer organizers.
11. Use the bottoms as trays to hold small items on shelves.
12. Milk jug square organizing containers.
13. Milk jug fabric covered storage bins.
14. Milk jug marker organizer.
15. Milk jug sewing scraps storage.
16. Milk jug storage organizer for shampoo and conditioner.
17. Milk jug newspaper organizer.
18. Milk jug hair brush storage containers.
Household Uses for Milk Jugs
20. Tray under house plants to catch over-watering (cut, using only the bottom 3" of the jug).
21. Grocery bag holder/dispenser.
22. Fill smaller jugs with water and freeze. Pack frozen jugs with your food for cookouts/picnics and into coolers for an alternative to buying bagged ice.
23. Hand weights – just fill with water (remember that 1 gallon of water=8 pounds).
24. Milk jug kettlebells for exercising. Fill with sand instead of water!
25. DIY milk jug low-flow toilet. Fill a jug with water or sand, and place in the tank to take up space.
26. Fill with water and put in the freezer to fill the gaps between foods. This will help your freezer cool the food more efficiently by limiting empty space, and you have all that water stored for emergency drinking water if you need it!
27. Family vacation fund bank.
28. Scoop for sand, soil, kitty litter, ice melter, salt, bird seed, fertilizer.
29. Holder for buttons at your sewing table.
30. Holder for storing dry paint brushes.
31. Milk jug painting caddy: fill the bottom with pain and the top is the paint brush holder.
32. Rubber band dispenser.
34. Milk jug faucet extender for kids to wash their hands when they can't reach.
Milk Jugs Uses for Kids & Toys
35. Swimming floats for kids to play in the water with (just screw the lids on tight to empty containers!).
36. Milk jug piggy bank: cut a slit if you want or just use the hole in the top.
38. Maracas – fill with a few rocks or beans and give to the kids for some noisy fun!
39. Milk jugs scoops ball game for kids playing catch (cut at an angle and leave the handle attached).
40. Milk jugs toy box for little toddler toys.
41. Megaphone (Just cut off the bottom and let the kids have fun!)
42. Milk jug paper dolls – these are much more durable than regular paper.
43. Milk jug donkey stick toy.
44. Milk jug football helmet for playing dress up or costumes.
45. Milk jug bath tub toy storage.  Remember to poke holes in the bottom so the water can drain out.
46. Milk jug toss toy.
47. Milk jug toy garage for Hot Wheels cars.
49. Milk jug doll houses.
50. Milk jug butterfly wings costume.
51. Milk jug bedroom basketball hoop.
Milk Jug Craft Projects
52. Milk jug butterflies coloring party craft project
53. Milk jug owl craft for kids.
Gardening Milk Jug Uses
54. Cover for tomato plants at night (cut the bottom away and only use the top).
55. Berry holder (cut off the top at an angle, and you can loop your belt through the handle).
56. Milk jug watering can (poke tiny holes in the bottom, fill 2/3 full with water, screw on lid, store upside down standing on the lid).
57. Milk jug flower pots.
58. Milk jug sunflower planter.
Outside Milk Jug Uses
59. Bee traps (we use this one a lot).
60. Milk jug Japanese beetle trap.
62. Luminaries – Lights for the sides of your walkway (use sand inside to hold mini LED lights, flashlights or candles).
63. Milk jug holder for clothespins outside.
64. A catch all while mowing your lawn. Cut off the top at an angle, leaving the handle. Attach to the mower handle with a zip tie and use it for trash, rocks, etc. while you're mowing.
65. Fill with water and use as weights outdoors to hold down the corners of plastic sheeting/tarps.
66. Leaf scooper to clean out your gutters (use a half gallon size and cut like a scoop).
67. Milk jug cooler for water bottles.
68. Milk jug holder for bird nest supplies.
Milk Jug Clothing & Accessories
70. Milk jug iPhone holster case.
71. Milk jug wallet.
72. Milk jug purse.
73. Milk jug coin purse.
74. Milk jug necklace or flower lei.
Milk Jug Lights and Lamps
76. Milk jug rosettes lamp shade.
Milk Jug Gifts and Gift Wrap
77. Milk jug gift basket.
78. Milk jug gift sleeves for small presents.
79. Milk jug gift tote.
Milk Jug Uses for Pets
80. Dog biscuit dispenser.
81. Dog food / cat food holder.
Valentine's Day Uses for Milk Jugs
83. Milk jug animal valentine's day mailboxes.
84. Milk jug teacher's Valentine's treats holder.
Easter Milk Jug Uses
87. Milk jug lamb Easter basket.
Halloween Milk Jug Uses
88. Milk jug jack o Lantern: a little orange paint, some help from mom or dad to cut out a face, and a small flashlight inside makes for a lasting Jack o Lantern!
89. Milk jug Halloween skeleton.
90. Milk jug Halloween luminaries.
91. Milk jug Halloween candy dispenser.
95. Milk jug storm trooper mask for a Halloween costume.
Christmas Milk Jug Uses
96. Milk jug Christmas poinsettia gift box.
97. Milk jug Christmas tree ornaments.
Other Holiday Uses for Milk Jugs
98. Milk jugs Thanksgiving turkeys, complete with feathers!
99. Milk jug snowflakes to decorate your windows.
Of course there are many more DIY milk jug projects and crafts that are not on this list, but this should be enough to get your creativity going for right now!  We'd love to see your original milk jug DIY projects and crafts!  If you'd like to have your own milk jug projects featured on Home Ever After, leave a comment on this post!