4th of July tablescapes for the picnic table from my front yard, perfect for Independence Day!  I hope you love the photos of our Fourth of July tablescape and seeing the many elements broken down simply.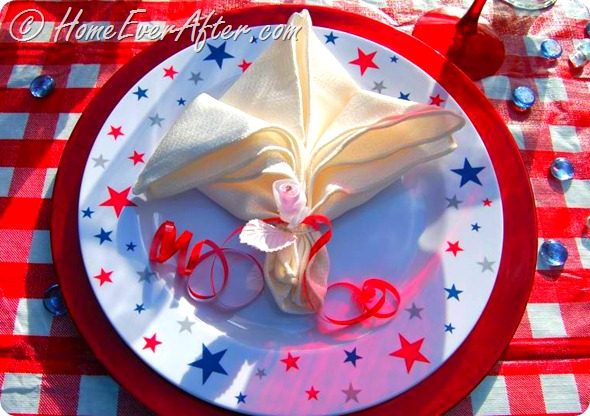 Red, white, and blue patriotic accessories adorn this (mostly) child-friendly table setting with plastic dishes, including plates, chargers, and stemware.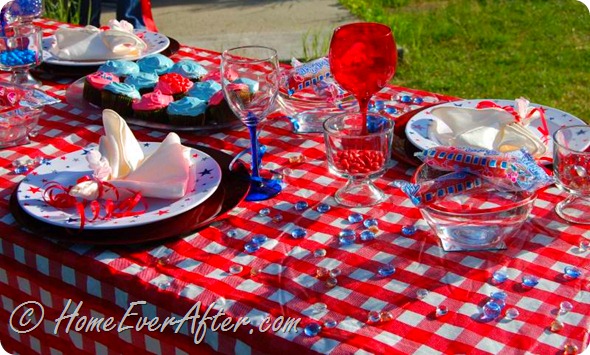 This table was set up for a dessert-only meal late one night prior to the Fourth of July.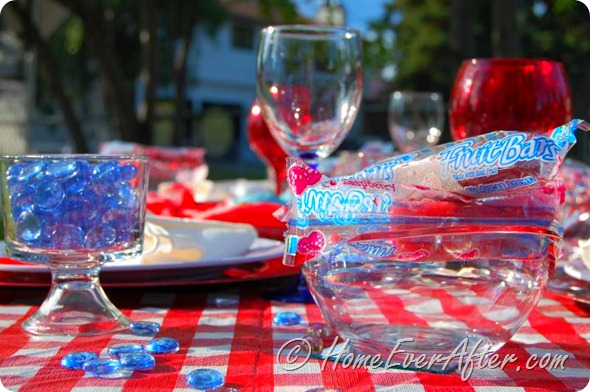 You can see that the only foods on the table are sugar-free fruit popsicles, bowls of red and blue M&Ms, and red and blue cupcakes!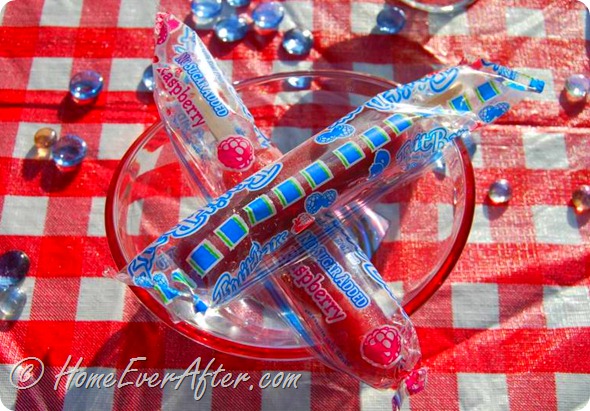 The cupcake platter was our patriotic centerpiece for the 4th of July tablescape.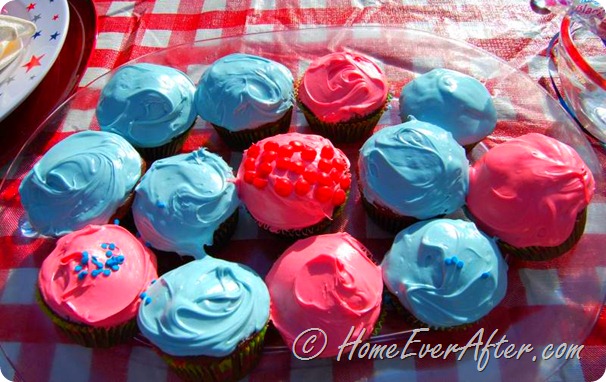 The middle cupcake has "USA" spelled out in red hot candies. The poor cupcakes were starting to melt due to the heat, so the USA is sliding off of the side in the photo!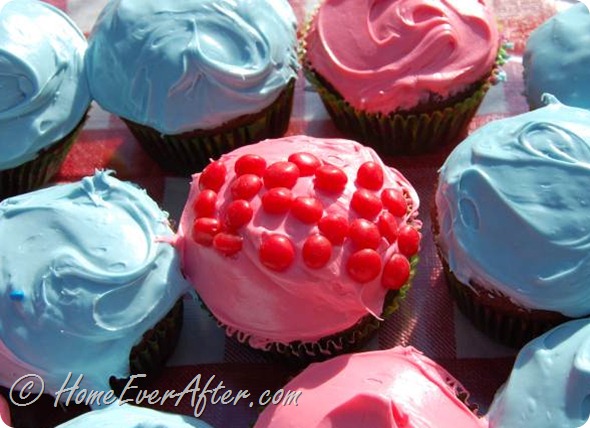 Here is one table setting (minus eating utensils, because we had finger foods only).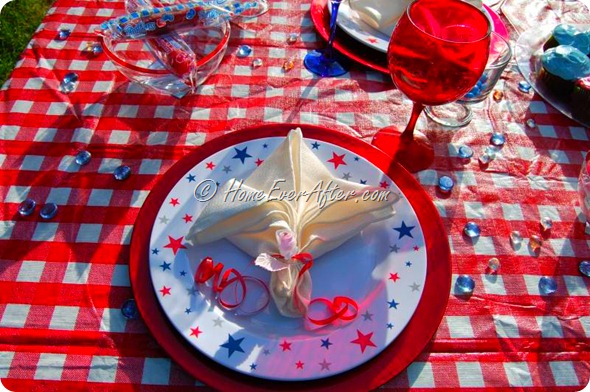 Some of the little pieces which went into this 4th of July holiday table setting are easy details that make a big splash.  Decorative colored glass gems in mini dessert bowls. These were also sprinkled across the tablecloth to reflect sunlight and add shimmer: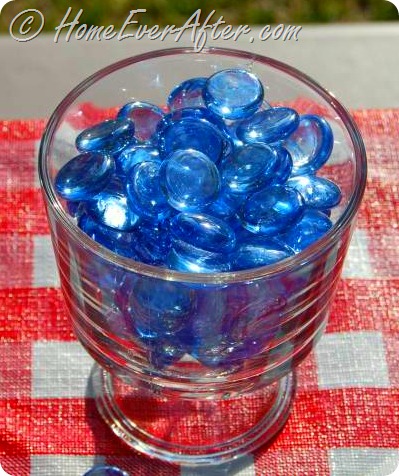 Curled metallic ribbon, leftover from Christmas.  These small coils of ribbon were sprinkled on the table and also used to accent the napkins (which were gracefully folded by Hannah):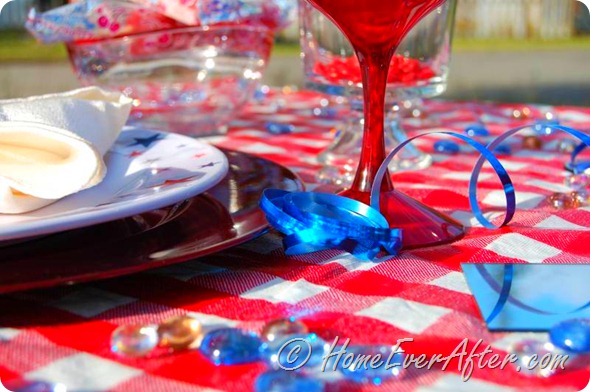 Small square mirrors (available at craft stores) were placed under the popsicle bowls to add depth to the tablescape: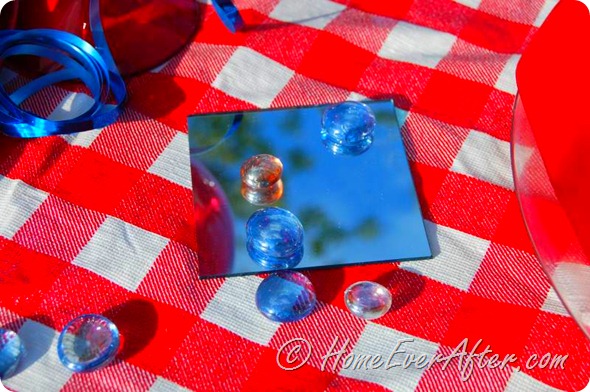 Our tablescape came together quite nicely, as the result of a whole-family team effort.  Happy 4th of July!
Love Independence Day?  Check out our 4th of July party menu with recipes and our 4th of July party house cleaning tips.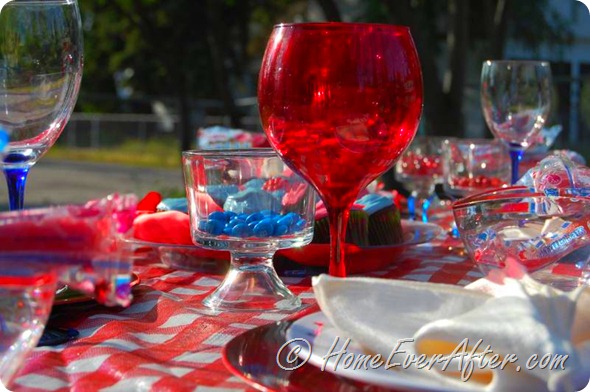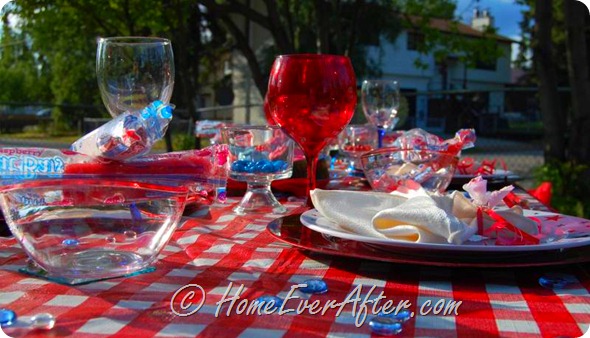 Find more beautiful tablescapes with Tablescape Thursday at Between Naps on the Porch.  We originally published "4th of July Tablescapes- Red White & Blue Picnic Table" on Home Ever After on July 1, 2009.