Do you want to guest post on Home Ever After?  Submit your guest post here.  The following guest post is by Courtney.  She keeps things simple by blending the 1950s housewife with the modern housewife. She features tips and tricks of how things were done "back then" and applies them to modern living.
Housekeeping Heaven: 4th of July Holiday Housekeeping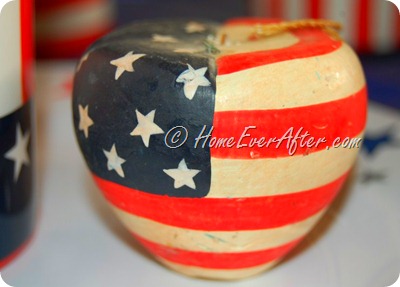 While your family is boasting over 4th of July parades, bonfires and fireworks, you might be silently praying that they'll all agree to go somewhere public rather than invite over your friends and family on the 4th.
Holiday housekeeping is at the top of the "most dreaded" list for most homemakers. In reality, holiday housekeeping is the easiest cleaning you'll ever do because you don't have to do all of it!
Let's think about the holiday parties you've been invited to. Have you honestly ever gone through someone's entire house (including closets and dresser drawers) and complained that it wasn't spotless? Probably not. If you have children, have you ever walked into some other child's bedroom and expected it to be neat and tidy? Definitely not.
Unless you have a friend or family member that has serious Mysophobia (fear of germs), you won't have to worry about it either. Your friends and family are there to have fun – not rummage through your home wearing white gloves.
4 Tips for Fourth of July House Cleaning
1.  Start by making a list of the obvious high traffic areas that your guests will be viewing. Estimate how much time it  will take you to clean each area. This way, you will know if you should schedule an entire afternoon or the entire day prior to the party to get it done. Check things off your list as you complete tasks and you'll feel that much better about all that there is to do.
2.  Delegate tasks. Your list won't seem to overwhelming if others pitch in to help. Only delegate tasks to other household members if they are capable of doing that task in a timely manner. For example, do not delegate the task of cleaning mirrors to your daughter if she is easily distracted by her own reflection. This is housekeeping – not acting school.
3.  Think ahead. Plan the food menu days ahead so that you can get a head start on the cooking and baking. If a cookout is your thing, remember you can make pasta salads, cookies, pies, and more ahead of time (and reheat the day of if needed). This will save you time on party day.
Try to spread out your to do list as much as possible. You will drive yourself crazy if you try to do all of the cooking and cleaning the day of the party. If you plan on polishing silverware or need to put the leaf in the table, these are tasks that can be done prior to cleaning day.
4.  Keep it simple. I know some holiday parties are going to require more detail than others, but stick to the norm as much as possible. In other words, don't bother digging out the fine china and family heirloom silverware when you host a backyard barbeque. Don't worry about cleaning your teenager's bedroom when you plan to host the party in the living and kitchen areas. Close all of the doors to the rooms you will not be using during the party.
However, do put a sign on the bathroom door to make it easier for your guests to find it when you direct them down the hallway to do their business. Don't bother cleaning rooms that you don't plan to use during the party – unless you have the time and just want to. This is about having fun! You won't have any fun at all if you wear yourself out beforehand.
Enjoy yourself and your guests will enjoy your 4th of July party. 
Check out our patriotic tablescapes before you go!  We originally published "4th of July Holiday Housekeeping" on Home Ever After on June 30, 2009.