It wouldn't have been the 4th of July weekend without some fun family camping, which is just what we did!  My husband and I packed up the family minivan and hauled the kids out to Chena Lakes for some good old fashioned roughing it.  At least that was the plan.  The misadventure looks even funnier in photos than it was in real life!  Here I present for you the 4th of July camping photo progression: sun to rain to – McDonald's?
My husband, Michael, and I have never gone camping with the kids before.  We should have known we were in for it, especially with a 6 month old baby and a pregnant mama.  Two days of setting up, packing up, and we were finally ready to go have our fun. 
Let us begin the tale of how quickly our "fun" devolved…
4th of July Camping Photo Progression: Sun to Rain to McDonald's (Part 1)
Sunday afternoon the weather was great!  Michael and Truett set up the tent for us: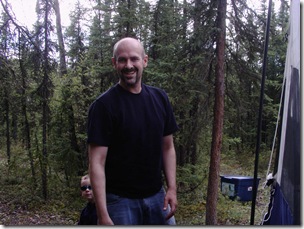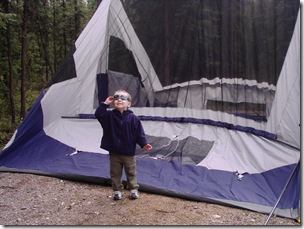 Truett was digging the "spy hole" in the tent, which is really an easy-access window to reach your outdoor cooler.  It did serve us better as a handy lookout window to keep a busy toddler occupied!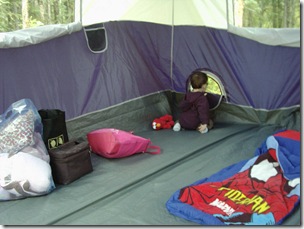 The day was hot and we had to open the windows to cool down the tent.  Warm and cozy, Seven was content to sit in her cow chair while we set up the sleeping bags: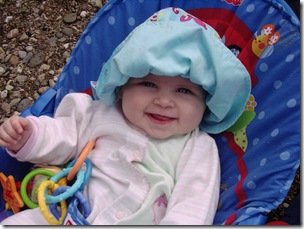 The finished product- our 2 room, 12 person tent.  Luxurious and spacious!  Isn't it lovely?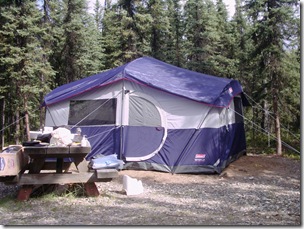 You will note that the rain fly is up, but there is a significant absence of tarps.  Of course, the weather was sunny without a cloud in the sky… Who would be thinking about rain at a time like this?
After a few hours fishing and grilling some hamburgers on our camp stove, we settled the kids into the tent.  We planned on catching fish to cook for supper.  In an unexpected twist, we caught no fish.  It was decidedly colder in the tent when we got back, since it was now nighttime (even though the 24-hour daylight makes the night look like day time). 
We tucked the kids in and went out to start a fire, hoping that would warm things up a bit.  Truett and Elmo were warm and snuggly in their Superman sleeping bag (nice and frugal, since it came from the recycle 100% free!):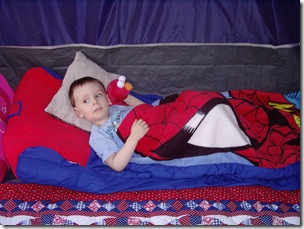 We started a fire, which quickly fizzled.  We started it again using a firestarter, and got a tiny flame.  We had brought out a stack of firewood with us, since you're not allowed to cut any trees at the campground.  However, we wanted to save our bundle for the morning fire which we'd need to cook breakfast on.  We foraged through the woods for sticks and twigs lying on the ground and threw them in the fire.  They burned them up quickly, but the fire was still so tiny, you couldn't have roasted a hot dog on it. 
It was at this point we wished we had studied The Camper's Bible, which we checked out from the library a few years ago, when we were first thinking about camping.  Boy would that book have come in handy on our camping trip!  I remember a specific chapter on how to start a fire in the rain.  But more on that later…
The miniscule fire couldn't have dried a wet pair of pants, let alone warm up children sleeping in the tent.  So we let the fire fizzle out (which wasn't hard – it was glad to give up and go out!) and went to plan B. 
Seven was sleeping in her playpen inside the tent, and wearing a baby sleepsack, but was still way too cold to be left there all night.  I put the baby in my sleeping bag with me, which was a very tight and uncomfortable fit.  We drifted off to sleep at about midnight. 
That's when the mayhem started…
Next, read part 2 of the 4th of July camping adventure to lern the exciting (and embarrassing) conclusion!