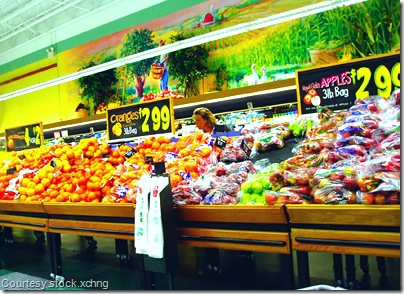 A question on every homemaker's mind at one time or another is, "How can I save money on groceries? I want to spend less on my food budget- how do I get started?"
We have a lot of control over our budgets when it comes to grocery spending, even though it might not seem obvious at first.  Most people enjoy saving money on necessities so that they can splurge on their chosen little luxuries for their families (like family vacations or a new game system).  That's what frugal living is all about!  These tips for saving money on groceries are a good starting point to get you cutting your grocery bill down drastically.
13 Easy Ways to Save on Groceries
1. Leave the kids at home when you shop for groceries (if possible). Comparing prices takes concentration. Someone begging for items which are not on the list can be distracting and drive up your grocery bill!
2. Check the price per unit. Select items based on how much each unit (ounce, pound, etc.) costs, not the whole package. Many stores make your job easier by having the unit price on the shelf's sticker. If not, carry a calculator with you and do your math. The larger package is NOT always the better deal.
3. Stick to the perimeter. Whole foods (the bakery, dairy, meat and produce) usually line the outside walls of the store. Try to stay out of the middle (where the packaged, processed convenience foods are). Those "middle" foods are more expensive and have less nutritional value than whole foods.
4. Make a menu plan for your meals and stick to it. No last minute runs for full-price ingredients when you find out you're missing what you need for dinner!
5. Base your menu around a few key ingredients. Fewer unique ingredients means fewer things to shop for.
6. Always shop with a list. Don't get distracted; only buy the things you need.
7. Buy generic. For most items, generics are comparable quality to name brands, but cost a fraction of the price.
8. Use coupons. Clip them from magazines, newspapers, or print them online.
9. Combine coupons with sales whenever possible for extra savings.
10. Get rainchecks if sale items are sold out. Don't let the store hassle you about it either; it's not your fault if they don't have a proper stock of their sale items. Get a raincheck and lock in the sale price for your next shopping trip.
11. Buy staples in bulk, just make sure you're able to properly store them.
12. Switch from soda to water. Soda is not good for you and it's expensive. Water is a free healthy alternative. Need I say more?
13. Buy produce from local produce stands or farmer's markets. The food is fresher, grown locally, and costs you less since the grower doesn't have to pay to ship it to a grocery store.