Welcome to day 7 (Wreaths on Inside Doors) of our Christmas home tour, which walks you through our new holiday house for the 12 days of Christmas.  Don't miss the whole 12 Days of Christmas Home Décor series with pictures of gorgeous holiday interiors – subscribe for free!
More 12 Days of Christmas Home Décor
12 Days of Christmas – Day 7 Wreaths on Inside Doors
12 Days of Christmas Home Decor: Day 7
You can never have too many holiday wreaths, and you don't have to waste your time trying to decide which one to put on your front door this year.  You can display ALL of your wreaths using my holiday tip:  display Christmas wreaths on your inside doors!  Using this method, we've got wreaths up on the inside of our back door, which can be seen in the dining room (pictured directly below), as well as the kids' bedroom doors on both sides, entryway doors and bathroom doors.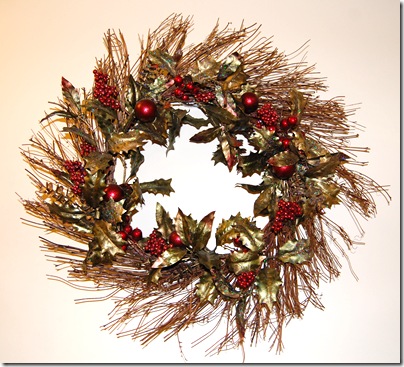 Below, you can see the photo of the jingle bells wreath, which is one of my favorites.  The jingle bells wreath is on the outside of the guest bathroom, better known around my house as the holiday bathroom because its décor changes with the seasons and holidays.  (Remember when we showed how to do displays of Christmas towels in a holiday bathroom?)  The cool thing about this wreath is that it has real jingle bells on it, so you can hear when anyone goes into or out of the bathroom!
Using the ever-so-nifty double wreath hangers that are available in stores right now, you can hang wreaths on both the inside and outside of a door.  The plastic or metal hook just rests over the top of the door (as shown below) and doesn't damage your door, but allows you to hang a Christmas wreath on both sides.
I also use magnetic wreath hangers (as pictured on the wreath above) on my metal doors, because they don't do any damage or leave holes in the doors. These magnetic wreath hangers are so strong they can hold up to a 10 pound wreath!  You can see what they look like or buy the magnetic wreath hangers here with free shipping.  I love that the hanger is small and completely hidden by the wreath- you can't tell how the wreath has been attached to the door.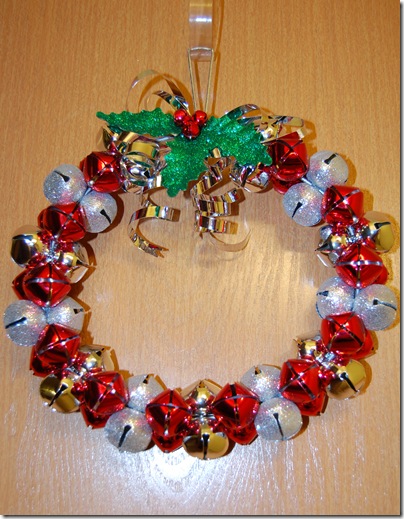 We originally published 12 Days of Christmas Home Decor: Day 7 on Home Ever After on December 19, 2010.  Read more of our holiday articles before you go.  Plus, check out our check out our other eye candy here or specifically Winter Eye Candy here.