The final season of the year is here, and our Christmas home tour walks you through our new holiday house for the 12 days of Christmas. Don't miss the whole 12 Days of Christmas Home Décor series with pictures of gorgeous holiday interiors – subscribe for free!




More 12 Days of Christmas Home Décor
12 Days of Christmas – Day 6 Colored Stemware
12 Days of Christmas – Day 7
12 Days of Christmas – Day 8
12 Days of Christmas Home Decor: Day 6
Now is the time of year to be watching for sales and coupons on stemware in all kinds of home and mass retail stores.  During the Christmas season, you'll be able to find colored stemware available in a wide variety of colors, shapes, sizes, and materials to stock up your tablescape dishes.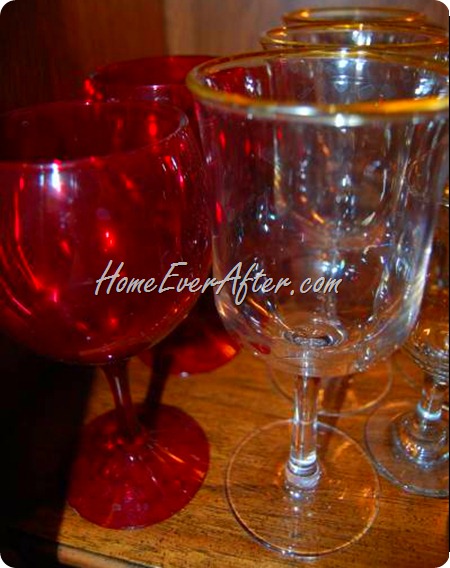 Be on the lookout for red, gold, silver, green, and even gold rimmed stemware now to use during the rest of the year as well as Christmas.
Red wine glasses will come in handy for Valentine's Day and all the patriotic holidays.
Gold wine glasses work for Halloween, Thanksgiving and New Years.
Silver wine glasses are great for Christmas, New Years, and graduations.
Green stemware can mix and match into spring and summer tablescapes with a variety of floral designs.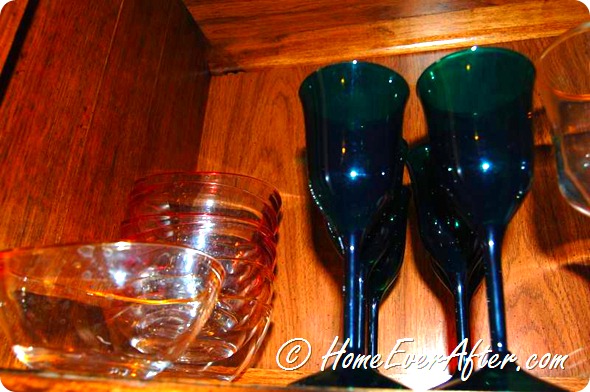 Colored stemware looks great displayed in a china cabinet, on a baker's rack, or on a  display wall shelf next to your dining room table.  Feel free to mix and match between solid colors and those with clear tops and colored stems.
I prefer to go with the shatter-proof acrylic stemware to avoid any accidents that would cause me to break a set.  As you can see in the picture, you can't tell the difference between the glass and the acrylic wine glasses.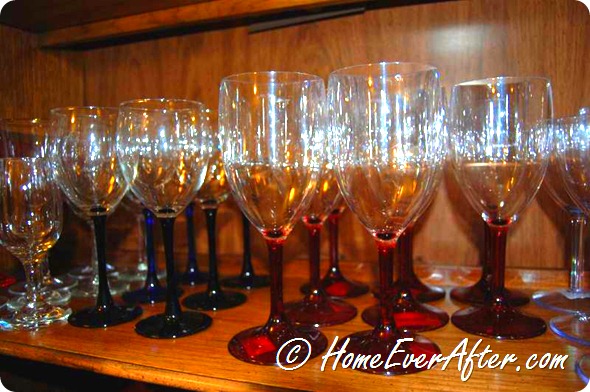 Plus, you can even let your kids use the acrylic wine glasses for their water glasses or juice glasses.  They'll feel special for getting to use your special occasion glasses, while you'll feel at ease knowing they can't break them!
Read more of our holiday articles before you go.  Plus, check out our check out our other eye candy here or specifically Winter Eye Candy here.  We originally published 12 Days of Christmas Home Décor: Day 6 on Home Ever After on December 18, 2010.