The final season of the year is here, and our Christmas home tour walks you through our new holiday house for the 12 days of Christmas. Don't miss the whole 12 Days of Christmas Home Décor series with pictures of gorgeous holiday interiors – subscribe for free!

More 12 Days of Christmas Home Décor
12 Days of Christmas – Day 5 Pretty in the Package
12 Days of Christmas Home Decor: Day 5 Pretty in the Package
It's no secret that many things look better when left in the package, like toys, candles, dolls, and especially Christmas candles and Christmas ornaments.  Why do you think the holiday aisles at the store look so appealing?  With their dozens of identical items side by side and the uniformity of placement and color up and down the aisles, the order in a world of chaos draws the eye instantly.
The picture at the top shows a small piece of one of my kitchen displays: gold ornaments, still in the box, and a poinsettia candle, still in the plastic wrap and tied with a red ribbon at the top.  Why are they still in the packages on my kitchen counter? Because they look so good!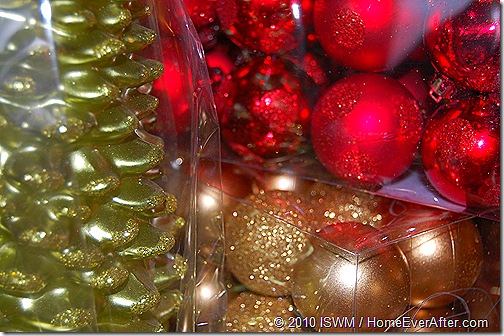 Above are 2 boxes of mini glitter ornaments in gold and red, plus a light green glittery Christmas tree candle.  They look perfect in the packages, so they stayed that way for this display.  The ornaments will have to come out soon though, because they're the filling in one of our Christmas centerpiece tutorials coming up.  (Did I mention that you'll want to get our free email updates now so you don't miss these great holiday projects?!)
Below in the last 2 pictures are the gold poinsettia candles: 1 round ball and 1 pillar.  They are wrapped up like little presents already, with pretty clear cellophane and red satin ribbons.  These candles are packages so nicely that they could be given as Christmas gifts as-is.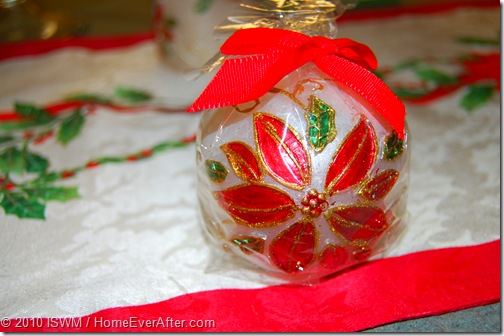 A good rule of thumb is that if something looks good as is, don't change it.  If the manufacturer has gone to great lengths to make an item look so appealing that you can't help but buy it, chances are that its holiday wrapping is just right already.
You obviously don't want a price tag out for all your holiday guests to see, so make sure the tags are removed when leaving an decorative item in the packaging.
When you get ready to display your items the second time around out of the packages, they'll almost look like new holiday décor!  Enjoy the new feeling and give them a completely different role in your Christmas décor and displays.  For example, these pillar and ball candles can be unwrapped, wicks trimmed, and put up on some beautiful tall metallic candle holders for a different look altogether.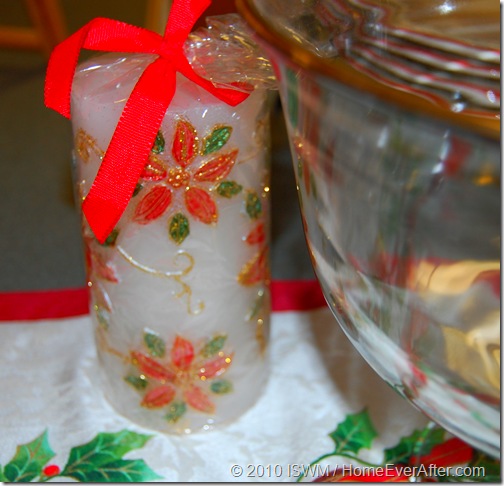 Read more of our holiday articles before you go.  Plus, check out our check out our other eye candy here or specifically Winter Eye Candy here.  We originally published 12 Days of Christmas Home Décor: Day 5 on Home Ever After on December 17, 2010.