The final season of the year is here, and our Christmas home tour walks you through our new holiday house for the 12 days of Christmas. Don't miss the whole 12 Days of Christmas Home Décor series with pictures of gorgeous holiday interiors – subscribe for free!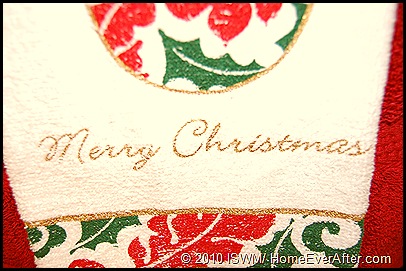 12 Days of Christmas Home Decor: Day 3 Holiday Bathroom Towels
It's a snap to set up your bathroom as a holiday bathroom with a few quick and inexpensive changes.  We started our holiday bathroom décor with some festive Christmas towels.  The basic towels that make up the displays are a solid rich red color that can be re-used in a holiday bathroom for Valentine's Day and 4th of July as well.
The 2 tricks to making the holiday bathroom décor look rich and expensive is to use Christmas printed kitchen dish towels and to layer the towels thickly.  Fold your towels over themselves to make them narrower than your towel rack or bar.  Layer a smaller towel on top of a bath-sized towel before adding the Christmas dish towels.  This set up gives you a plush luxurious holiday look for your Christmas bathroom that will make it look like it was decorated for a magazine!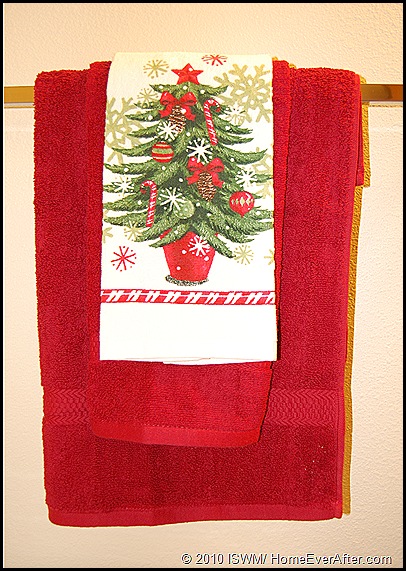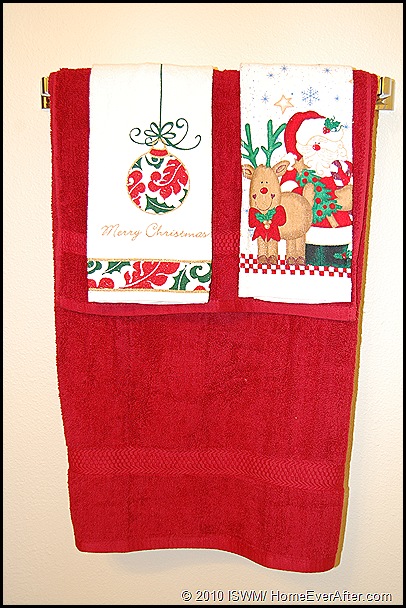 Read more of our holiday articles before you go.  Plus, check out our check out our other eye candy here or specifically Winter Eye Candy here.  We originally published 12 Days of Christmas Home Décor: Day 3 on December 15, 2012.