The final season of the year is here, and our Christmas home tour walks you through our new holiday house for the 12 days of Christmas.  Don't miss the whole 12 Days of Christmas Home Décor series with pictures of gorgeous holiday interiors – subscribe for free!

More 12 Days of Christmas Home Décor
12 Days of Christmas – Day 8
12 Days of Christmas Home Decor: Day 2 Porcelain Pets
For day 2 of the 12 Days of Christmas Home Décor, we're showcasing some beautiful porcelain pets.  These holiday scenes with playful kittens are set with beautiful white porcelain and accessorized with artificial greenery, bright red bows, and playful kittens in Santa hats.  They're set atop a white and red  jacquard table runner designed with poinsettias and red ribbons.
This cute Christmas scene helps to decorate the kitchen counter in our holiday home.  Don't worry- you'll be able to see the whole scene in a few days as we show off these porcelain Christmas knick knacks mixed in with our poinsettia candles for a beautiful kitchen display.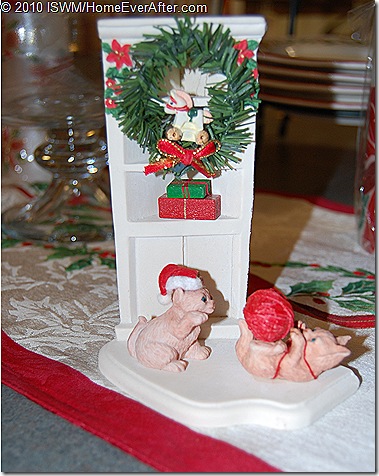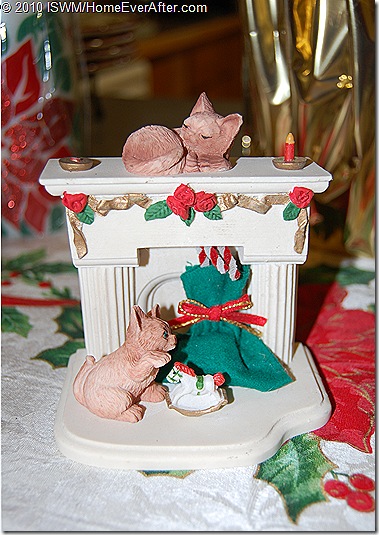 These gorgeous Christmas decorations must have cost a fortune brand new.  However, I picked up the whole holiday décor set at a consignment shop during their $1 bag sale.  That's right- I put all of them in a bag (along with several other items) and only paid $1 for the entire bag!  Talk about a frugal treasure for my holiday decorating!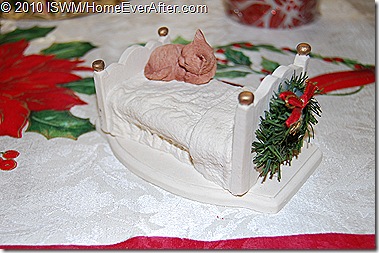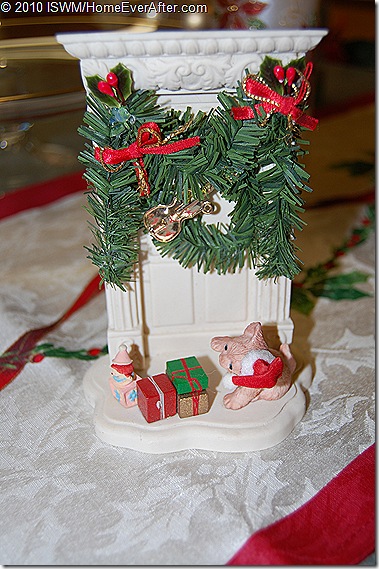 Read more of our holiday articles before you go.  Plus, check out our check out our other eye candy here or specifically Winter Eye Candy here.
We originally published 12 Days of Christmas Home Décor Day 2 on December 15, 2010.