The final season of the year is here, and our Christmas home tour walks you through our new holiday house for the 12 days of Christmas.  Don't miss the whole 12 Days of Christmas Home Décor series with pictures of gorgeous holiday interiors – subscribe for free!  Here is a sneak peak into the next 3 days of Christmas décor for you too:

12 Days of Christmas Home Decor: Day 1 Entryway Welcome Table
How do the photos below look for warm and inviting?  Is that just what you want to see when walking in to a holiday home from the cold winter outside?  The first touch of Christmas inside your door can set the tone for the holiday home you want to present to family and visitors.  The scene below is set up on a small table in the entryway of our house.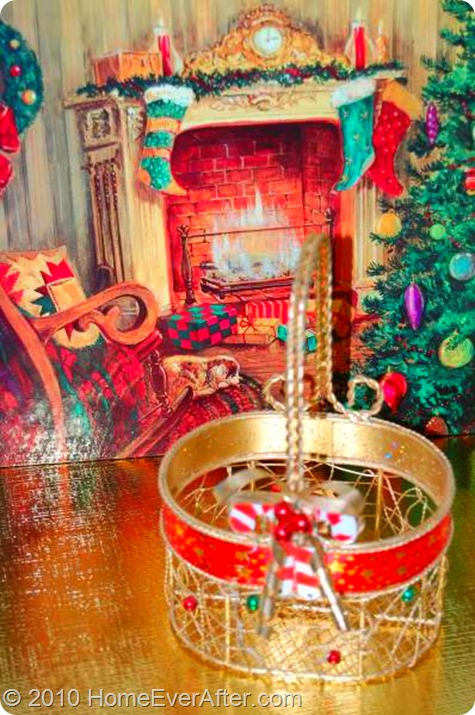 To create a similar holiday welcome table in your entryway, you don't have to spend a lot of money. In fact, our holiday welcome table was a very frugal project.  Here's how it's made up:
Small decorative table, available at mass retailers for about $15
Gold metallic round placemat, $1.50
Wooden cork-backed placemat with fireplace scene design, $2.00
Gold holiday basket, bought the day after Christmas at a craft store for 99 cents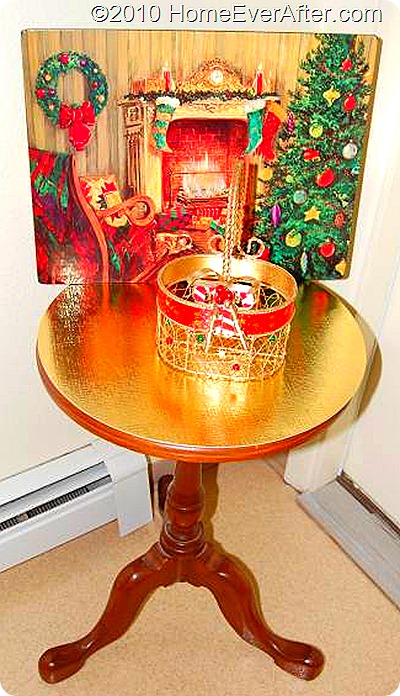 Our gold metallic placemat just happened to be the same size as the table top, which kept us from using a tablecloth.  However, you can purchase decorative tablecloths for these small tables or make your own out of a small amount of fabric.  The entryway welcome table can be quickly and frugally changed out to decorate with the seasons and add an inviting touch to your home!
These pieces were all bought on sales combined with coupons to make them even more budget-friendly, except the table, which we already owned.  Be on the lookout for the handy wooden placemats which can also be hung on the wall, since they look just as good as a painting, but are far less expensive.  Inexpensive holiday décor pieces add variety to your holiday decorating, but won't break the bank since they'll only be on display for about 1 month out of the year.
Read more of our holiday articles before you go.  Plus, check out our check out our other eye candy here or specifically Winter Eye Candy here.
We originally published 12 Days of Christmas Home Décor Day 1 on December 13, 2010.