The following is a guest post by Tiffany. She is a stay-at-home mom to a teen, a toddler, and is expecting number three in June. You can catch her blogging over a cup of coffee at Lattes And Life.  Subscribe to her free RSS feed to read more from Tiffany.
---
10 Ways Not to Break the Bank When Baby Comes
Having a baby can easily be one of the most expensive life changes you'll go through. For such little people, babies seem to require very big purchases! In reality, it is possible to have a baby while staying on budget. Here are ten ways NOT to break the bank when baby comes:
1. Buy Used, When Possible.  Don't be afraid to scour yard sales, thrift shops, and consignment stores for good quality baby items. Since babies grow so fast, these places are usually full of barely used clothing and baby paraphernalia. Just be sure to stay current on all safety recalls, especially if considering a used crib or car seat.
2. Ask For Hand-Me-Downs.  If you know someone who has a child older than yours, don't be shy about asking for their hand-me-downs. When my son was born we had a few friends with older boys, and they provided so much clothing that we never had to buy a single outfit. That was a HUGE financial relief, and has continued to be a relief 2 years later!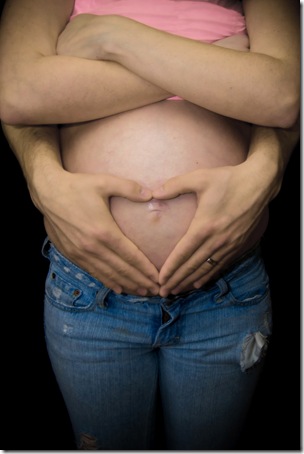 3. Sample Store Brands.  If you're using disposable diapers, they can get expensive! Try a few different store brands and see if they work for your baby. Store brands can be quite a bit cheaper, especially if you have a warehouse club in your area. The same applies for baby wipes and formula.
4. Ask For Samples. A little known secret is that your pediatrician has a stockpile of formula samples and is more than willing to give you some! If you're formula feeding, be sure to ask for samples at each visit. Also, sign up with the formula companies for their customer rewards program. Each brand has their own "club", and they usually send out high value coupons and samples.
5. Skip The Bassinet Or Cradle. Although super cute, bassinets and cradles are not very frugal in the long run. Most babies will outgrow a bassinet/cradle in a few months and be ready to move to a regular crib. Save yourself a few hundred dollars and just start out with the crib.
6. Skip The Fancy Crib Bedding. Crib bedding sets can easily retail for a few hundred dollars. Are they necessary? NO! Most prepackaged sets include a crib bumper, which in recent years has been declared a safety hazard. Skip the sets and just purchase a few individual crib sheets. If the thought of baby bumping his head on the crib bothers you, look into The Breathable Bumper. As for the cute blankets in those prepackaged sets? Babies shouldn't sleep with blankets until they're much older anyway. Save yourself the money.
7. Find A Safe Place To Change Baby. There are many frugal alternatives to a freestanding changing table. You can buy a changing pad with a cloth cover and secure it to the top of a dresser you already own. Or you can place a waterproof pad on your own bed and change baby there. You could even use the floor. You don't need expensive furniture just to change diapers!
8. Reconsider Baby Bath Tubs. A baby bath tub is a very handy item to have, but if you're really working with a limited budget you can easily skip this purchase. Babies have been bathed in kitchen sinks for years. As long as you keep your sink clean you won't have any problems. Simply lay a folded towel down in the bottom of the sink before filling with water, so baby has a soft place to rest. You can bathe baby this way until he can sit up on his own. Then just move him to the regular family bathtub. (Editor's note: Always remember to provide proper supervision and put safety precautions first while bathing baby).
9. Skip The Fancy Laundry Detergent. Advertisements would make us believe that there is only one laundry detergent safe enough for babies. And naturally, that detergent comes with a hefty price tag. You can skip this one too! Any laundry detergent labeled "FREE and CLEAR" will be fine. Even a store brand! What you're trying to avoid is anything including dyes or scents, since these can aggravate babies' delicate skin.
10. Buy Items As You Need Them. Your newborn baby doesn't need a high chair. You can safely postpone that purchase for at least four months. Only buy what you absolutely need, when you need it. That gives you plenty of time to save money and search for sales or good quality used items.
Using these tips, you can easily bring home baby without breaking your bank account. I suggest making a list of what you MUST have for baby, then decide which of those items you don't mind buying used. Figure out what items you simply must buy new. Then start looking for the best deals!
Now that you've read these 10 money-saving baby tips, you may want to read about how to get things done with a baby.  How did you keep your baby costs down?   Please let us know in the comments.
Photos courtesy of stock.xchng; pregnancy photo by Benjamin Earwicker.