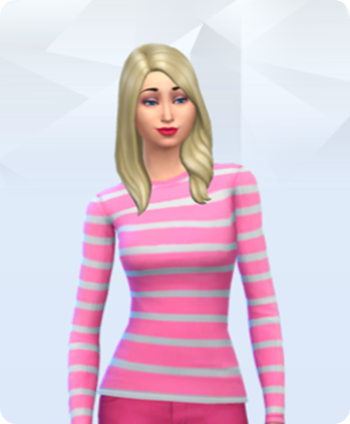 The SIMS™ 4 is ready to pre-order for all of you gaming moms and dads!  The latest PC game in the Sims series will be available at Walmart on September 2, but that doesn't mean you have to wait to build your new sim.
At left, you can see my new sim that I just built in the Create a Sim free demo on the Sims website.
She looks like me, it's true, but I don't name my sims after myself!  This emotionally-aware blonde sim is Alice Ellis.
→  Get your free Create a Sim demo now.
How to Preorder The SIMS™ 4
Make sure you get your copy of The SIMS™ 4 right away!  You can pre-order the game online now at Walmart.com.
When you pre-order The SIMS™ 4, you'll get a free pack of the new Sour Patch Kids gum.
1.  Go to The SIMS™ 4 pre-order page.
2.  Scroll down and push the orange "preorder" button.
3.  Complete checkout.
Your preordered copy of The SIMS™ 4 will ship to you on September 2.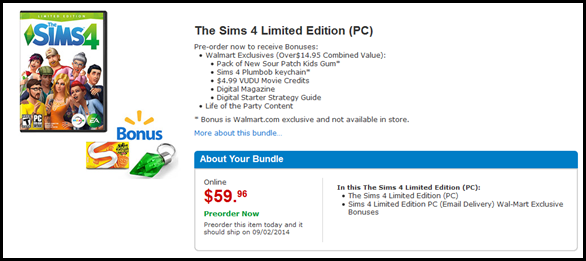 What's New in The SIMS™ 4
The SIMS series has come a long way since its beginning, with sims that were slightly customizable and relationships between characters that were possible but complicated to create.
So much has changed in the evolution of The SIMS™ and you'll agree after trying your hand at the new create a sim demo that your sim can now be exactly what you want!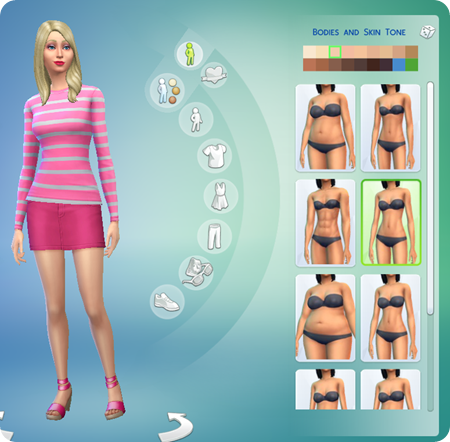 Build Mode:  The sim builder interface is still easy to use but more robust than ever.  Pictured above, the point and click build mode allows you to customize every aspect of your sim's appearance so she is just perfect for you.  You can see Alice on the left, sporting a live preview of any changes I make with the buttons on the right.
For example, you can click one of the pictures for an overall body type, then fine-tune it by using sliders to make your sim fatter or skinnier and more or less muscular.
The face builder is quite detailed as well.  Clicking anywhere on your sim's face allows you to zoom in and change facial features, bone structure, makeup, etc.
Sims with Big Personality:  Smarter sims in The SIMS™ 4 allow your characters to be more realistic than ever before.  They are life-like with better emoting than previous versions, so you can tell how your sims are feeling at-a-glance.  In the build mode, you can choose your sim's aspiration to give them direction for their career and life's endeavor.
Below, you can see the choices for aspirations:
I made my sim, Alice Ellis, be focused on fortune with a career-oriented simulated life.
You can then customize your new sims with traits (pictured below).  If you're kind to your sims, you'll choose traits that support their aspirations.  Alice could have had "ambitious" as a trait to help her be a successful business woman.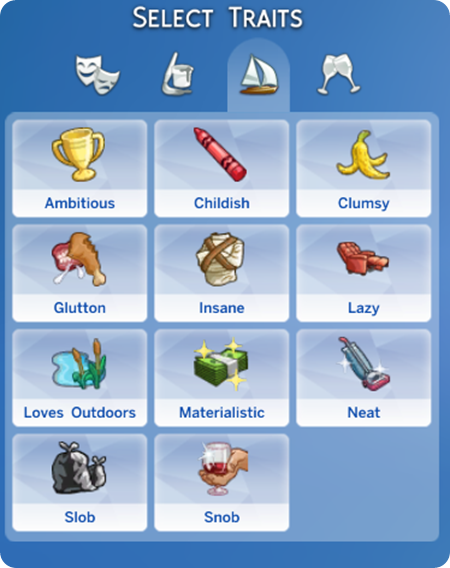 Or…
If you're devious and want weirder stories (or just want to be mean to your sims!), you can give them traits that will work against their aspirations to give them a challenge.  For example, I could make my business sim "clumsy", "lazy", and "insane"!
How easy would it be for her to achieve a fortune as a career sim with those traits?  Probably not too easy!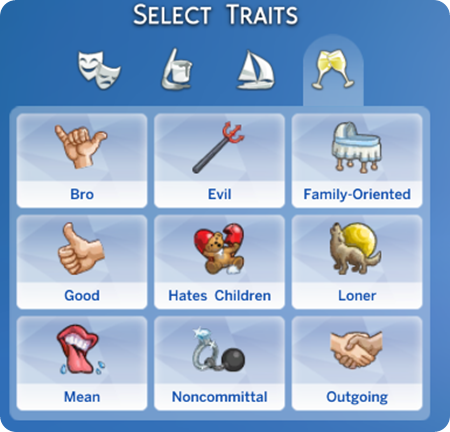 Sharing:  You can save your sims, even entire households of sims, and share them in the gallery for everyone else to see.  Plus you'll be able to easily download new creations from the gallery for your sims.
Relationships:  When you're creating your sim households, you can make entire families and set the relationships between different people right up front.  You can also use the genetics tools to manipulate looks.
I had a lot of fun creating my new sim for #TheSims4 game launch.   Of course, I'll be heading to Walmart on September 2nd for the big in-store launch to pick up my copy of The SIMS™ 4 game and then I'll be playing non-stop for days!  Go grab your free download of the Create a Sim demo and get all ready for gaming next week with The SIMS™ 4 and your whole family.
–
Disclosure:  This is a sponsored post and Danelle Ice has been compensated by #CollectiveBias #cbias and The SIMS™ 4 to create the content.  Only Danelle's honest opinions are given.