Raise your hand if you've been decluttering, organizing, or shopping for back to school clothes already?  All parents are in various states of back to school frenzy right now, and I've got something exciting that's going to make your life easier. 
Schoola is a site that takes donations of used kids' clothes and sells them at deep discounts to earn money for schools' art and music programs.  That means you can clear out your child's outgrown clothes and buy cheap school clothes for this year in a snap!
→  Click here to get your FREE donation bag!
Back to school is one of our favorite times of year at Home Ever After.  Right now, I'm working with Yick Wo Elementary in San Francisco to earn money for their art program.  When you request a donation bag from my  link above, Schoola will donate $1 to Yick Wo and $2 out of every $5 will go to YOUR school of choice!
A quick note:  This is a sponsored post, which means Schoola is compensating me to help get the word out about their amazing store and service.  My opinions are honest, as always, and I don't share causes if they're not worthy.
How to Donate Used Kids' Clothes to Schoola
I know you want to declutter and send your kids' outgrown clothes to Schoola! You'll be helping other frugal parents get great affordable school clothes for their kids and helping Schoola give money to schools to fund their arts programs. Here are the easy steps to get you donating clothes to Schoola this BTS season.
→  Step 1: Click this link.
→  Step 2: On the Schoola page, click the "Donate to Help" button.
→  Step 3: On the Request a Bag page, fill in your mailing address (so they can send you the donation bag) and a zip code for a school in your town you want to earn money from your clothes.
→  Step 4: Click the "Get a Bag!" button. That's it!
Schoola will mail you a donation bag the next day to fill up with your used children's clothes. Mail it back to Schoola (the shipping is already paid) and 40% of the sales of your donated clothes to the school you chose.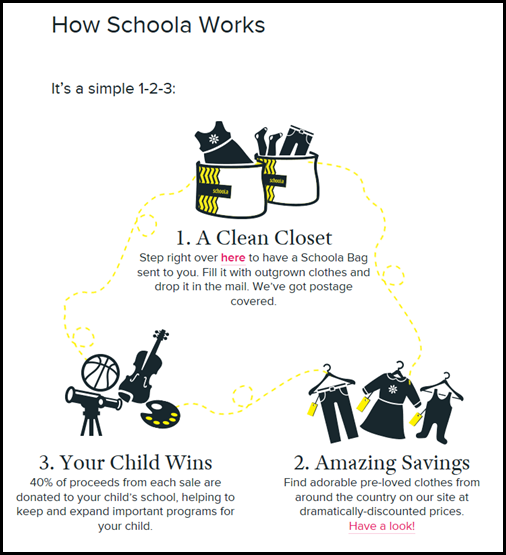 What?  No Music Class?
As a professional writer, creative arts programs in K through 12 schools are very important to me.  I grew up in Fairbanks, Alaska and the public schools there still offer art, gym and music classes as a regular part of students' education. 
When I moved to California, I was shocked to find out that students don't have music class as a regular part of the week.  My son's last 2 schools didn't have art class or gym class either.  The schools didn't even have gymnasiums!
I'm a singer.  I'm a screenwriter.  I'm a graphic designer.  Being a creative artist is not only in my soul, it's an integral part of my profession as well.  I found my love and passion for these creative outlets WAY back in elementary school. 
I remember my music classes and art classes from elementary school vividly, even though they were decades ago.  From the minute music class ended on Tuesday, I looked forward to my next  class on Thursday.  In retrospect, I cannot imagine what school would have been like with no specials (art, music, gym). 
The video below shows how requesting a free donation bag to send in your kids' used clothes can help Yick Wo Elementary school get their art class funded:
→ Click here to
get your FREE donation bag!
Make sure you head over to Schoola to do your BTS clothes shopping too.  The prices are amazingly low, so don't wait to shop the deals.  I spotted a red Disney Belle from Beauty and the Beast shirt this morning on Schoola.  The retail price was $16.99, but the Schoola price was just $3.80.  By the time I went back to complete my purchase, the shirt was already sold!  Don't wait –
shop Schoola now
and avoid the back to school store crowds.
What are your best memories of art and music from school? I'd love to hear about them in the comments section below.  What questions do you have about Schoola and how it works?
—
FTC Disclosure: This post was sponsored by Schoola and contains Danelle Ice's honest opinions.