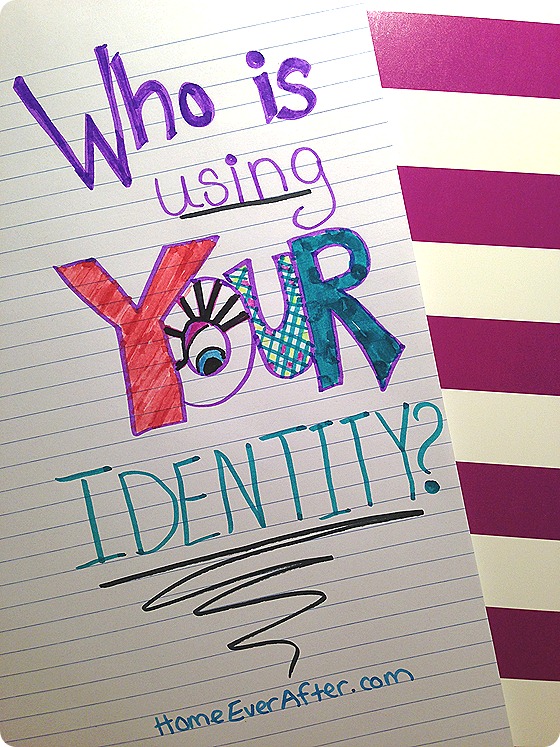 Who is Using Your Identity?
How many security breach letters have you gotten this year?  I've lost count of how many I've pulled out of my mail box.  In fact, after I briefly skimmed my Home Depot data breach letter last week, I actually threw it away without any shock or surprise at all.
No matter how the security breaches keep happening or from which retailers, they're not slowing down, so we should all be prepared.  With our public social media accounts and a few numbers (social, driver's license number, etc.), we've all got enough sensitive data floating around out there to be one unscrupulous person away from identity theft.  Do you know who is using your identity?
We don't all have time to scour our credit card statements line by line, looking for transactions that aren't our own.  We're busy with life!  The time involved to clean up a case of identity theft is far more than the time it takes to be prepared, however.
LifeLock is the specialist in identity management.  LifeLock Ultimate® provides services like bank account takeover alerts, letting you know when someone opens a new bank account with your name or information, when someone runs a credit check on you, and even reducing the number of pre-approved credit card offers you receive.
If you haven't signed up for LifeLock yet, keep reading for a special promo code below for Home Ever After readers.  You can also follow LifeLock's coverage of the Home Depot security breach on twitter and facebook with the hashtag #breachwatch.
LifeLock's Tips: What to Do After Being Notified of a Possible Security Breach
If you got a security breach letter from a retailer and are wondering what to do next, here are 5 steps from the experts at LifeLock.
1.  Order a new debit card.  Although this may seem like an unnecessary step if nothing suspicious has shown up in your accounts yet, it's a prudent (and painless) precaution to have your bank send you a new debit card.  Since this card is linked directly to your money, a stranger having access to it could cause you a lot of grief.
2.  Watch your transactions.  Look for odd charges (places you don't normally shop, names you don't recognize, states/countries you haven't been to).   Pay attention to tiny amounts (under $10) too – they're easier to miss than large amounts.
3.  Report questionable activity to your credit card company.  Use the phone number on the back of your credit or debit card to give them a heads up if you suspect someone has accessed your accounts without your permission.
4.  Pay attention to news about the case.  Don't throw away letters from Home Depot without reading them!  This goes for any other news stories about the data breach.  Pay attention so you know the latest information.  It may give you clues of what kinds of fraudulent activities to look for.
5.  Sign up for identity protection before the next security breach happens.  LifeLock Ultimate Plus™ and LifeLock Advantage™ are just 2 of the plans that check for unauthorized activity.  You can be alerted to red flag actions like balance transfers and large sums of cash being taken out of your account. 
Don't be paralyzed by the fear of identity theft, but don't be oblivious either.  Get yourself the protection you need.  LifeLock's Identity Alert® system lets you know when something might be wrong and their $1 million guarantee will fix it if your identity is stolen while you're a LifeLock member!
LifeLock Promo Code
Here's the coupon code you've been waiting for!  Get 10% off with the LifeLock promo code breachwatch. Visit the LifeLock site to use the code now and get the peace of mind that their monitoring provides.
–
Disclosure: This is a sponsored post written by Danelle Ice for LifeLock.  Danelle was compensated for writing this post, but her opinions are her own.